News News News News News News
09/10/2021 News News Help for the flood-damaged school KGS Arloff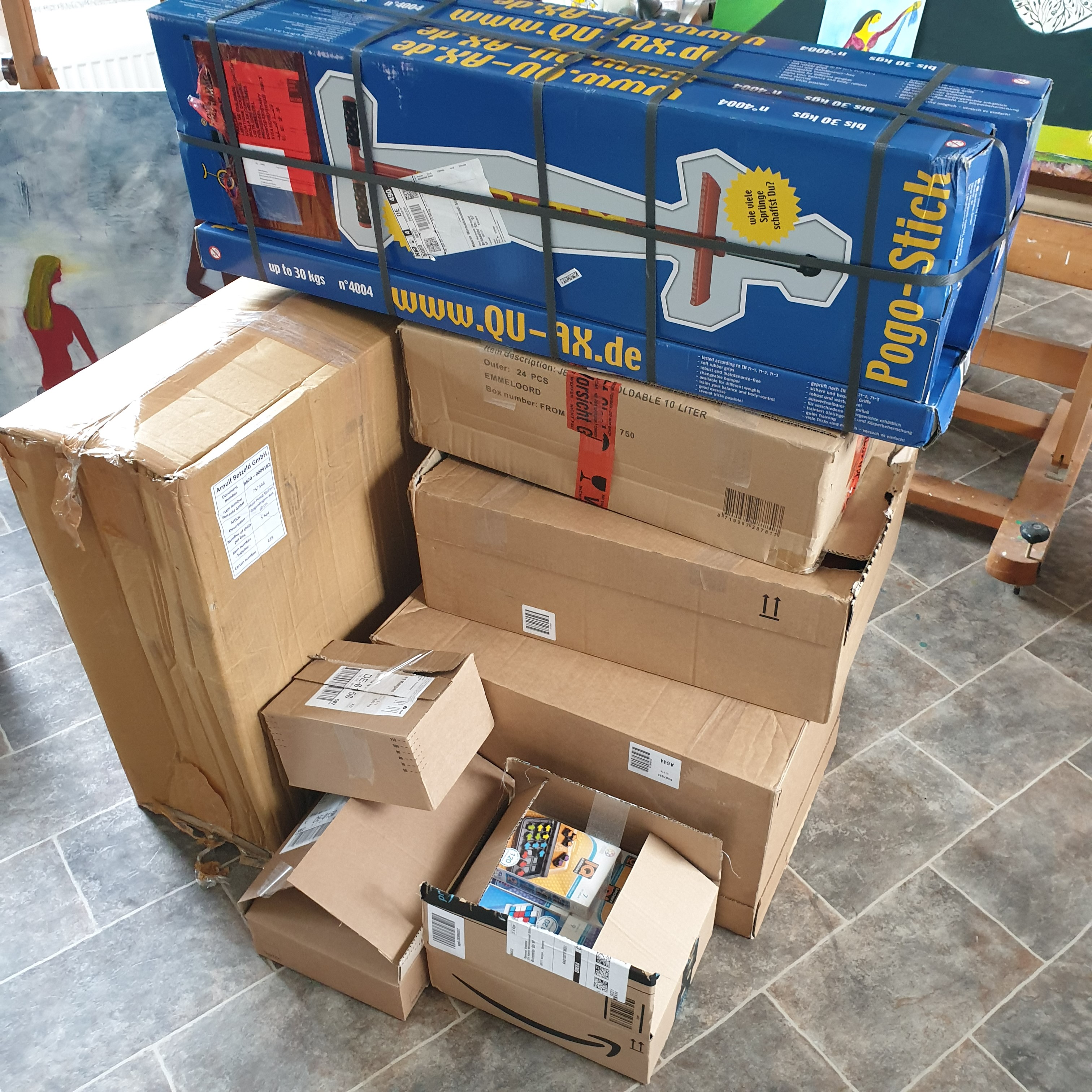 We contacted the KGS Arloff elementary school through the Bad Münstereifel community, which was badly affected by the flood, to clarify where we can provide specific help.
In conversation with the headmaster Mr. S. Meier, the school badly affected by the flood, we were shown where there is an urgent need for help.
The teachers then very quickly sent us a wish list of the "urgencies" that we are currently processing.
The first deliveries of our orders have already arrived.
We hope that all deliveries will arrive by the end of October so that we can then personally hand over the desired "teaching materials" to the KGS Arloff school.
At this point we will report on the further course of our "Flood Aid" project.
------------------------------------------------------------------------
08/16/2021 News News Our project "playful language training" is finished.
When the children started school, our project "Playful language training for preschool children" was successfully completed. All project information as well as information about the course of the project can now be found under "completed projects"
You can see what the press reports about it here -> click
--------------------------------------------------------------
08/16/2021 News News Today we received a transfer to our donation account in the amount of € 1,000 from wonderful people who do not want to be mentioned by name.
I can only really love these great people who came to Germany as a family years ago, who have built up their own independence here and who today help other people in such a natural and humble way and support our foundation, thank you very much on your behalf of the children say.
You are great and I am happy that I met you.
-------------------------------------------------------------------
18.05.2021 News News Hochwasserkatastrophe in NRW und Rheinland-Pfalz
Even after a week there are still bad news from the affected flood areas. The death toll after the devastating floods in the Ahrweiler district in Rhineland-Palatinate has risen to 117. In the other affected areas on the Erft and Ruhr, too, the plight of the people is still huge.
With the rain subsiding, the situation seems to have eased somewhat. Many spontaneous helpers and volunteers have helped the local people in the last few days, giving them consolation and hope.
We help too. Especially the weakest, the affected children!
Unfortunately, our resources are limited. Therefore we ask for your donation to help even more children.
Find out what we do and how you can help here -> click
------------------------------------------------------------------
05/18/2021 Today we received a very surprising donation from a wonderful person who met Nasrin when she was lying in the same hospital room with his wife.
Like me, this great person lost his wife. For your generous donation, I want to say thank you very much in advance, dear Thomas.
I will thank you personally in the next few days.
-------------------------------------------------------------------
Tuesday, May 11th, 2021 News We started our new project "playful language training for preschool children".
The Nasrin Mirmohammadi Foundation, are promoting a "cooperation kindergarten-school" in the community of Malsch near Heidelberg.
To prepare for school lessons, language development and communication are very important.
Children who start school and have no basic German language vocabulary have great problems following the lessons in order to learn to read and write.
Through the financial support of the foundation, disadvantaged kindergarten children will receive language support through the project "playful language support", which enables them to actively participate in class after school.
We will report here shortly about the further process and the small and large project successes.
-----------------------------------------------------------------
December 17th, 2020 News What a great day !
On December 17th, 2020 we received from the SwissLife Foundation for wealth of opportunities and future
for our latest project "tutoring"a check about € 5,000 !!
We say thank you very much !!!
With this generous donation we are able to help many more children.
----------------------------------------------------
Dear visitor,
This website is under translation. Sorry, text is`nt allready translated now. We are working on to finish asap.
The foundation was created in line with the last wish of the founder Nasrin Mirmohammadi (Nasrin Westphal). The founder wanted to give underprivelidged teenagers, especially underpriveliged young women access to culture and education.
It is founded based on private capital provided by the founder and donation capital.
All capital can only be used for the means of educational promotion, in line with the purpose of the foundation.
All people working for the foundation are volonteers, they don't receive any salary or other financial compensation.
This way we ensure that all donations or other help is dedicated 100% for educational projects, benefitting pupils, students and apprentices.
This link provides more information on the current projects.
This links provides more information on the completed projects.
| | | |
| --- | --- | --- |
| | | |